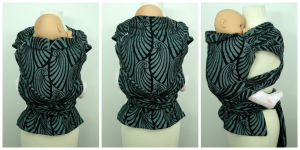 The Gigotai is a wrap straps mei tai entirely sewn out of wrap fabric. The seat is adjustable in height AND width to accommodate children of all sizes. This is a mei tai that is easy to use, WITHOUT cord or plastic clips, suitable from birth to 4 years+. Try it, you'll love it!


♥  See the ready to ship models here ♥
♥ CUSTOM ORDER ♥
The MINIMUM length requirement for a standard size Gigotai conversion is a size 6 wrap and a size 7 is required for a preschool size. You must count more for the addition of a headrest, a hood or accessories.
If you have a shorter wrap, it is possible to match with plain 100% organic cotton broken twill (at extra cost, contact us for an estimate).