Miss Gigotine aims to provide safe and comfortable baby carriers. Whether you choose a custom made or a ready-to-ship model, you will find here an original baby carrier fitted to your needs!
---
Miss Gigotine only uses woven wraps designed for babywearing in the making of her baby carriers. Our plain broken twill is imported directly from France, since it is unfortunately impossible to find in Canada. This technical weaving is ideal for babywearing, giving unparalleled drape to the child and his caregiver.
Who are we?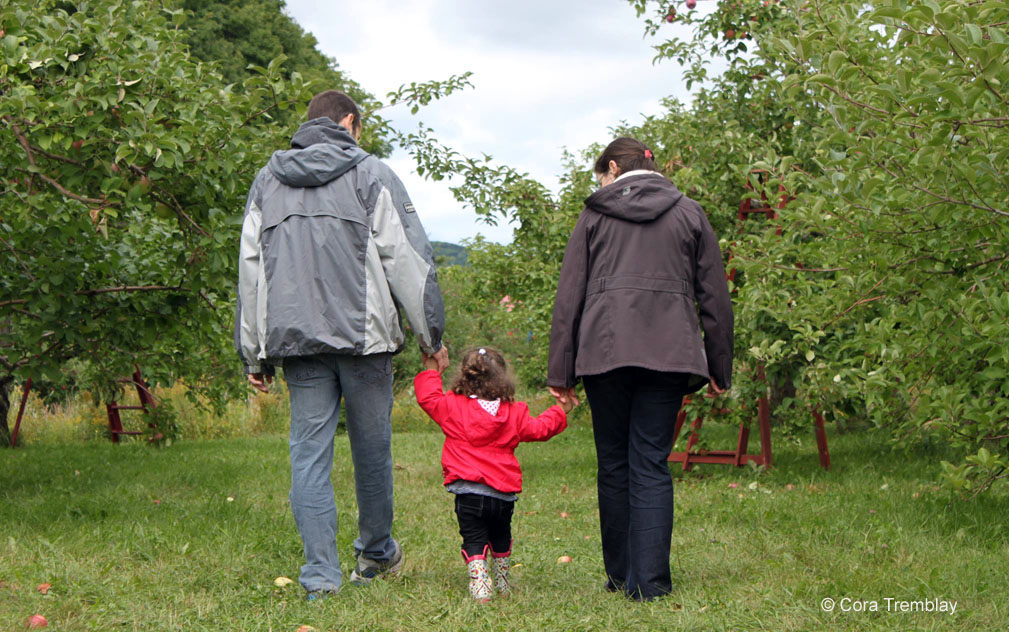 The family behind Miss Gigotine consists of Beatrice, Alexander and Genevieve. The seamstress, it's her, she is me!
I always loved to create, craft was part of my life since childhood. My passion for sewing appeared in adolescence. I sewed for myself and others… clothing for children or adults, costumes, corsets, cloth diapers, stuffed animals and even a wedding dress! Many people encouraged me to start my own business, but the enthusiasm was not on my side …
After becoming a mother, this long-standing passion for sewing was fused to a whole new love: babywearing. The wraps, their different weaving, colors and textures make me alive! I had found THE area that would allow me to transmit my passion for babywearing while creating beautiful and useful objects.
The name of the store has established itself: Miss Gigotine, my daughter's nickname! This adorable child, colorful and lively, inspires me to create unique baby carriers.
Do not hesitate to contact me for a special request or simply to chat about babywearing … It is a passion I love to spread around me! The proof: I am a babywearing educator (certified by Porter la Vie) since February 2017! 😀
Geneviève ♥